The fascinating Moroccan and more specifically Berber culture, is something that can not be overlooked when traveling in this country. The artisanal crafts, the production of carpets, jewelry and Argan oil are rooted in their culture and we want you to discover it in the best way possible: close to the artisans and in a non mass-market way.
HIGHLIGHTS OF THE TRIP: from Marrakech to the Atlas mountain & Essaouira
ACCOMmODATION In MARRAKEsH & THE KASBAH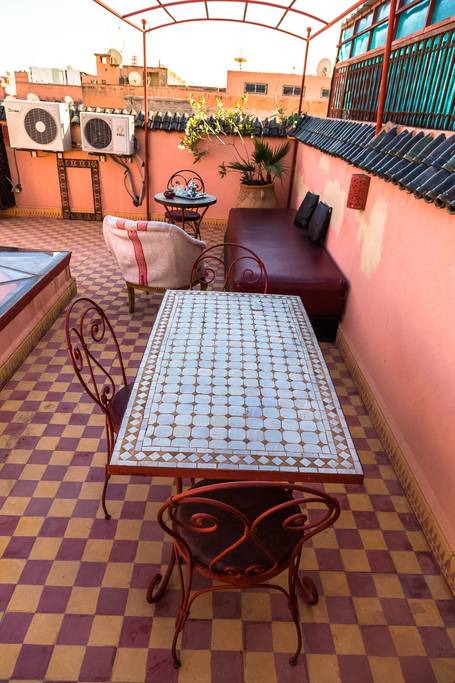 WHAT'S INCLUDED:
Accommodation & transportation
1 night in a riad in Marrakesh
4 nights in an Eco Kasbah in Talamanzou (with pool and hammam)
Shuttle from Marrakesh to Talamanzou
Shuttle from Talamanzou to Essaouira and back
Shuttle from Talamanzou to the Airport
Food
Food is all included besides from exceptions (see down below in "not included")
DISCLAIMER: for cultural reasons alcohol will not be provided outside of Marrakesh & Essaouira.
Activities
Souk Tour in Marrakesh
Day trip to Essaouira
Visit of the traditional carpet and berber jewelry women's cooperative
Visit of an Argan women's cooperative
Traditional cooking class
DIY natural cosmetics with aloe vera and Argan oil from the garden workshop
Super talented photographer: to capture every special moment, and bring home lifetime memories!
NOT INCLUDED
Airfare to Marrakesh
Transportation from Marrakesh-Menara Airport to Marrakesh at arrival the first day
Lunch in Marrakesh
Lunch in Essaouira
If you're feeling extra
you can book a massage, extra of charge, just ask the organizer!
if you have specific shopping inquiries during your stay, we can organize extra shopping tours. If you want to get inspired, have a look Garance Doré's shopping recommendation in Morocco here.
GETTING there
MARRAKECH AIRPORT will be your best friend! We will meet directly in the Marrakech Riad on the first day & will go the next day to the Kasbah (1 hour from Marrakech).
When Jamel saw this abandoned house and piece of land in the middle of the Atlas, his dream was to bring it alive again and to perpetuate the Berber tradition. He managed to not only renovate it, but to make it sustainable and auto-sufficient and to employ people living in the village next to it. By cooperating with Jamel, and its commitment to employ villagers we want to give back to the place that is welcome us during this Moroccan journey.
BUDGET
You have a date in mind in your calendar and want to book this trip with your family, friends or teammates from your company?